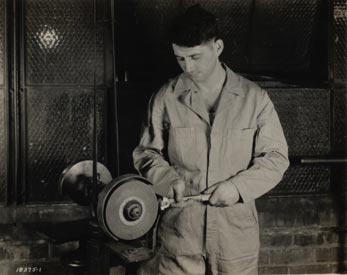 Founder Ralph Neri, circa 1938
"Winners are not people that never fail. but people that never quit! We are committed to be your partners in success!
Thank you for taking the time to consider KutRite for your upcoming project! To understand where KutRite is today, you have to understand its roots.
Detroit had seen a notable rise of industry and commerce in the late 1800s, but Henry Ford pushed the city and the surrounding area to previously unseen levels at the turn of the century. Ford's manufacturing innovations keyed the automotive industry and labor boom in the Detroit area. As Ford and rival automakers General Motors, Chrysler and American Motors all established world headquarters in the region, the city became known as the car capital of the world, a manufacturing area without peer.
World War II turned the auto capital into President Franklin Delano Roosevelt's "Arsenal of Democracy" as Detroit's factories focused on the production of M5 tanks, Jeeps and B-24 Liberator Bombers. The ability of Detroit to churn out the Liberator, the most mass-produced allied bomber in history, helped shift the balance of power during the war.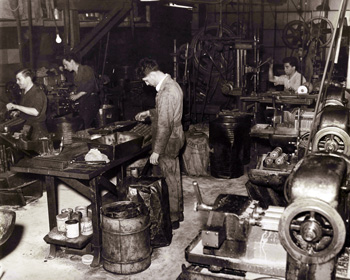 After World War II, Detroit blossomed into a truly global business center with its metropolitan area expanding to one of the largest of its kind in America. And one of those newly established manufacturing businesses was this one. Established in 1947, KutRite began as a manufacturer of Huntington Grinding Wheel Dressers, a cutting- edge tool that enabled operators to re-true and redress grinding wheels in shops across the globe. At that time, we had developed a milling process for dresser cutters, that provided a substantial higher quality tool with a "cutting edge" for added tool life and efficiency that leaves a superior profile.
By the late 1950s, as the concrete scarifier was being developed for cleaning shop floors and preparing surfaces for coatings, KutRite began supplying milled cutters to various manufacturers of the scarifier machines. All of KutRite's engineering expertise was focused on developing innovative tooling for concrete scarifiers. In this pursuit, KutRite branched out into the development of tools made from new materials such as carbide and carbide-inserted cutters. KutRite successfully developed innovative designs along with new manufacturing methods that improved the tool's performance and longevity, ultimately increasing profits for our customers.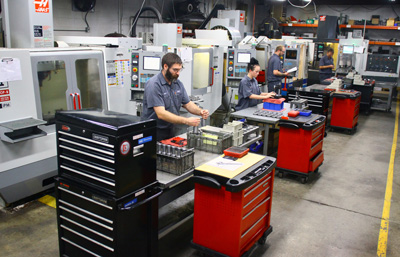 Thanks to continuing success in the marketplace, KutRite was reorganized in 2002 under a new partnership: KRMC, LLC. With over 60 years of combined experience in surface preparation abrasives and tooling, KutRite decided to begin the reorganizing process by launching a patent-pending "Full Face" cutter in 2004. Shortly after that launch came the introduction of KutRite's own brand of concrete scarifiers.
In 2008, we spent a great deal of time and energy developing the Conquer series of grinders and polishers, which made their debut at the World of Concrete in Las Vegas, NV. Since that time we have also added the EDGEKutter™, KleanRite™ Vacuums and 2012 World of Concrete Most Innovative Product, the patent-pending Conquer Twin.
This year, we add the innovative Conquer20 SS and the KRazor EDGE to our series of cutting-edge machines.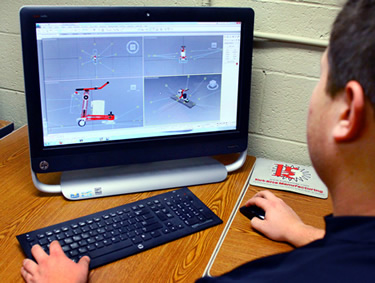 Like all of the famous innovations manufactured in and around Detroit, KutRite's products are American-Made, born and bred at our main location in Romulus, MI, a suburb of Detroit. KutRite takes pride in developing products with the contractors' needs in mind. We support our industry and want it to succeed. Making the best products – products that make the operator's job easier and less costly – is our ultimate goal. Our engineering and manufacturing departments are committed to providing real world solutions for the contractor's needs, that allow for greater production and less downtime.
We welcome and embody Detroit's "can-do" spirit. From the beginning, it has been our mission to serve our customers with honesty and respect. We are committed to 100 percent customer satisfaction and are willing to do whatever it takes to provide the products and services required. Our staff and our distributors are available to assist you with all of your questions, concerns and needs. Our national sales team has a tremendous amount of "real world" experience and understands the struggles that are encountered on the job.
Please give us a call. Let us help do your job!